Trout Fishing, The Abel Tasman Region, New Zealand
Come fly fishing and catch a brown trout in New Zealand's uncrowded environment.
Fly fishing in New Zealand is renowned for beautiful scenery, uncrowded rivers and large, feisty trout. Whether you've only half a day to spare or wish to go on a helifishing overnight trip, we can help. If you're someone who's never fished before we can introduce you to this wonderful sport, but a word of caution, you'll be hooked (pun intended). If you're an experienced angler, we can take you to areas that will test your trout fishing skills.
Riverside Angling Adventures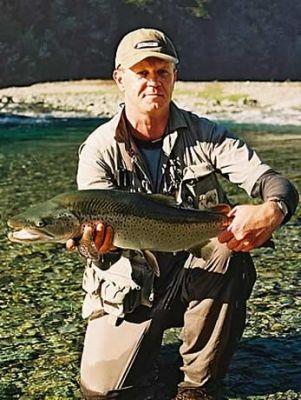 Guided Fly Fishing, Nelson, New Zealand
Join a local trout fishing guide and fish one of the best trout fishing regions in the world. Come with me and let me share with you some of the excellent fishing areas in this beautiful region at the top of New Zealand's South Island.

Whether you want a half day trip, a helifishing adventure or a multi-day fishing camp out I can arrange it for you and help you enjoy a fishing experience of a lifetime.