Campervan And Motorhome Rental In New Zealand
Chose from a wide selection of motorhomes and campervans.
Touring New Zealand in a motorhome or campervan gives you untold independence. You can stop and enjoy places you discover, lingering longer if you wish. Your home on wheels will enable you to enjoy New Zealand as an independent traveller.
Rainbow Community Backpackers, near Takaka, Golden Bay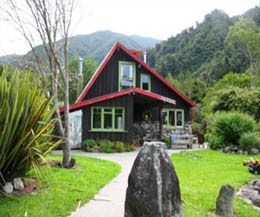 Rainbow Valley Community backpackers and campsite accommodation in Golden Bay.
On the edge of the Kahurangi National Park and adjoined by beautiful native forest, the Rainbow Valley Community offers comfortable backpacker accommodation and a campsite for vans and tents in their tranquil Takaka valley in Golden Bay.

The large comfortable house offers double rooms and single rooms, fully functioning kitchen, hot shower and laundry. Those in campervans, motorhomes and tents have the option of using the community house facilities or ablutions only.

The community's swimminghole in the Anatoki River is the perfect place for a rejuvenating dip after enjoying a wonderful day of bushwalking or trekking.