The Abel Tasman Home
Abel Tasman Accommodation
Apartments
Backpackers & Budget
Bed & Breakfasts
Campervans
Campsites
Conference & Function Centres
Cottage Accommodation
Farm Stays
Holiday Park Cabins
Holiday Park Camping
Hotels
Lodges
Luxury Accommodation
Motels
Organic Accommodation
Self-contained Accommodation
Vineyard Accommodation
Activities
Acrobatic Flights
Bird watching
Boats, Cruises, Water Taxis
Climb or Abseil
Cycling
English Lessons
Golf
Guided walks
Kahurangi National Park
Kayaking
Scenic Flights
Sea fishing
Trout fishing
Vineyards & Wine tasting
Arts and Crafts
Galleries/Artists
Food, Dining, Venues
Cafés/Restaurants
Conferences, Party, Function Venues
Transport
Campervans
Guided tours
Heaphy Track
Motorcycle tours
Rental cars
Watertaxis
Towns of the Abel Tasman Region
New Zealand's Abel Tasman National Park
Motueka
Nelson
Marahau
Mapua
Upper Moutere
Golden Bay
Abel Tasman Business Opportunites
Businesses For Sale
Book Your NZ Bus Trips Below
The Abel Tasman National Park
Welcome to The Abel Tasman - the website for New Zealand's Abel Tasman region.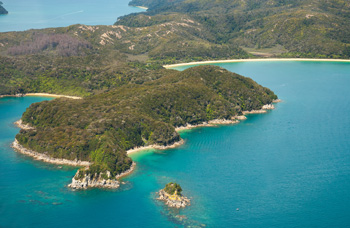 One of New Zealand's 14 national parks, the Abel Tasman is the smallest at 22,530 hectares.

It is covered in native bush, interlaced with walking tracks and surrounded by clear blue/green seas and welcoming bays with golden sand.

Many people enjoy walking the picturesque Abel Tasman Coastal Track, breaking the walk with a well deserved swim in one of the Abel Tasman's tantalising bays.

There's also one of New Zealand's marine reserves off the Abel Tasman National Park's coast.

This reserve provides a safe haven for the marine wildlife in the area and is therefore a great place to scuba dive or snorkel, just see how big the crayfish grow.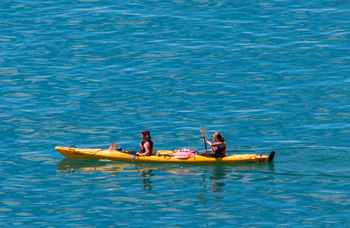 The area is home to the New Zealand fur seal, which can be seen swimming in the blue waters or resting on rocks along the coastline.

The Abel Tasman National Park is within easy driving distance of Nelson, Motueka, Kaiteriteri, Upper Moutere, Tasman and Mapua, areas rich in arts and crafts, cafes, vineyard and wineries.

Not to mention all the activities available from sea kayaking to tramping.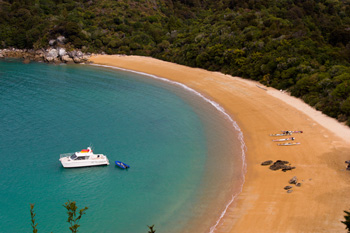 Kahurangi and Nelson Lakes National Parks are also nearby, both offer extensive hiking tracks and stunning scenery.

So what are you waiting for? Use the links to help you find a place to stay, whether you're looking for a holiday home, bed and breakfast or a lodge, there's one listed.

And then decide what you're going to do, take a cruise, charter a boat, tour the surrounding area by motorcycle or learn to abseil. In fact there's so much to do here, you may find yourself booking next year's holiday in advance.


New Zealand's Abel Tasman Coastal Track - Thanks to the Department of Conservation.

Thanks to Harold & Yen for their Abel Tasman experience - enjoy more of their adventures here.
Upcoming events

7th-30th December
DoC Kiwi Ranger

7th-30th December
Motueka Sunday Market

7th-30th December
Monty's Sunday Market

7th-30th December
Nelson Saturday Market

7th-30th December
Nelson Farmer's Market: - each Wednesday

7th-30th December
Takaka Village Saturday Market

7th-30th December
McCashin's Market, Stoke

8th December
Motueka A&P show

8th December
Mapua Makers Market

8th December
Tiny Tots, Toys and Teddies Christmas Party, Richmond

8th December
Takaka Memorial Library Magic Show

8th December
Richmond Santa Parade

14th December
The Lantern Celebration - Centre of NZ.

14th December
Takaka Santa Parade

21st December
Motueka's Birdhurst Christmas in the Park

22nd December
Carols by Candlelight - Richmond

30th December
Richmond Market Day

1st January
Arts and Crafts Fair, Tahunanui Green

2nd January
Port Nelson Street Races

5th January
Tata Beach Cardboard Boat Race

8th January
Nelson Lakes Festival

9th-26th January
Street Beat

11th-15th January
Centre for Fine Woodworking Summer School

11th January
Pohara Beach Annual Sand Sculpture Extravaganza

12th January
Nelson Mail Teddy Bears' Picnic - Isel Park, Stoke

18th January
Golden Bay A&P Show

24th January - 2nd February
Nelson Outdoor Summer Theatre

30th January - 2nd February
Buskers' Buskerburgoo

2nd February
Sarau Festival

2nd February
Collingwood Summer Food Fair

27th-28th February
The Classic Hits Winery Tour